When my older son, Bob, graduated from college in 1982, I knew what I wanted to give him as a graduation present. A trip for the two of us to Kenya! It was an unforgettable experience. It was incredible. It was amazing.

In 1982 I didn't have a video camera, so all my pictures were taken on 35 mm slide film. I have now scanned some of those images and I'm posting them here along with a brief description.

It was a KLR trip (I think KLR is no longer in business), there were 25 people in our tour, and here's the itinerary:

Sunday, January 10th -- Fly New York City to Amsterdam
Monday, January 11th -- Fly to Nairobi
Tuesday, January 12th -- At Nairobi (overnight at the Nairobi Hilton)
Wednesday, January 13th -- Drive to Tsavo National Park East (overnight at the Salt Lick Lodge)
Thursday, January 14th -- Drive to Tsavo National Park West (overnight at the Kilaguni Lodge)
Friday, January 15th -- Drive to Amboseli National Park (overnight at Amboseli Serena Lodge)
Saturday, January 16th -- Drive to Mount Kenya National Park (overnight at Mount Kenya Safari Club)

Sunday, January 17th -- Drive to Samburu Game Reserve (overnight at Samburu Lodge)
Monday, January 18th -- At the Samburu Game Reserve (overnight at Samburu Lodge)
Tuesday, January 19th -- Drive to Aberdare National Park (overnight at Treetops)
Wednesday, January 20th -- Drive to Masai Mara Game Reserve (overnight at Keekorok Lodge)
Thursday, January 21st -- At the Masai Mara Game Reserve (overnight at the Keekorok Lodge)
Friday, January 22nd -- Drive to Nairobi (transfer to airport for flight to Amsterdam)
Saturday, January 23rd -- Fly Amsterdam to New York City
---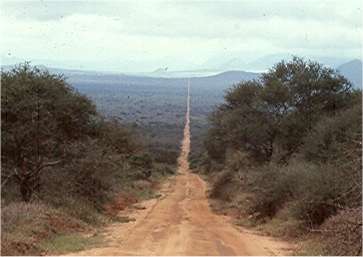 I think this vista is in Tsavo National Park West. Our group was divided in four vehicles. I asked the driver to stop so I could take this picture. In the original photograph you can see two clouds of dust off in the distance up ahead on the road. They're from two of the other three vehicles in our group.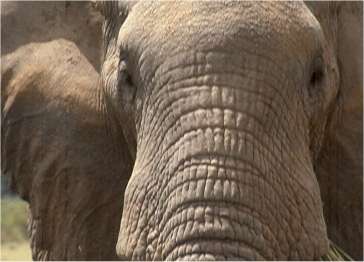 What a thrill to get this photo of an elephant. It was near the end of our second or third day in Kenya and we had almost reached our lodge when this guy made an appearance. Fortunately, I had my camera (and telephoto lens) ready when he started his mock charge. (When I got home I had the shot enlarged to 20 by 30 inches and framed.)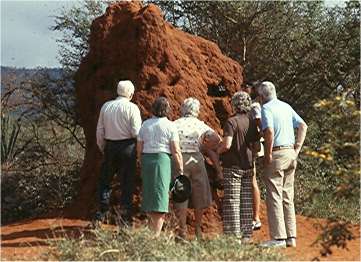 We stopped at this termite mound and got out of our vehicles for a good look. Notice the red soil.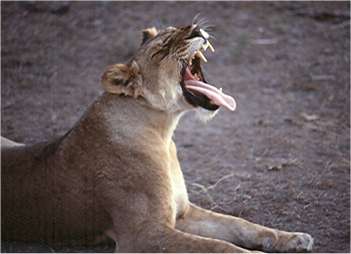 Our tour guide was Lynne Leakey. She was in our vehicle when we came upon a pride of lions. It was late in the afternoon and the animals were lying around lazily. After a while the other vehicles departed, but Lynne decided we would wait. Ten minutes or so later the lions began to stir, stretch, and yawn. I snapped the shutter in mid-yawn.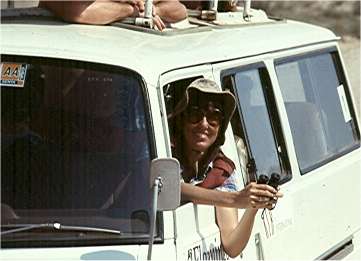 This is Lynne Leakey. (She was married -- briefly -- to Philip Leakey, a member of the family well-known for its work in paleontology.)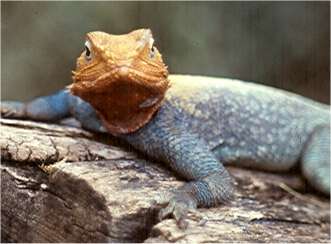 I think we were at Samburu Lodge when I saw this fellow along the path near the cabins. I was amazed at the lizard's bright colors.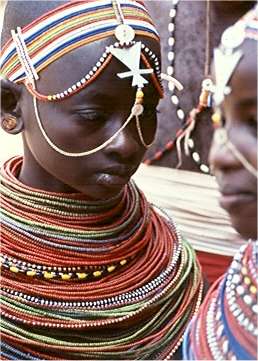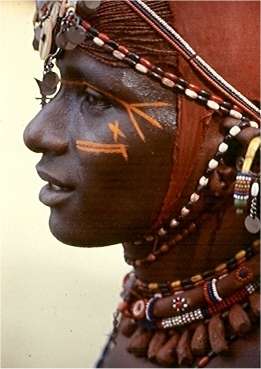 Dancers at the Samburu Lodge were fascinating. There was drum beating and chanting and the men and women would undulate with the rhythm. Their beads and other decorations were very colorful.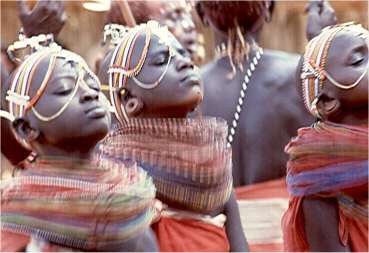 When the performers danced, their beads had a dance of their own.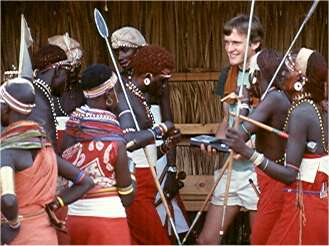 I took a hand-held cassette tape recorder along on the trip and recorded the dancers. When Bob replayed the sounds, the Samburu men and women were fascinated, and acted as if they had never seen a cassette recorder before. Hearing the drums on the recording, they quickly launched into their dance moves.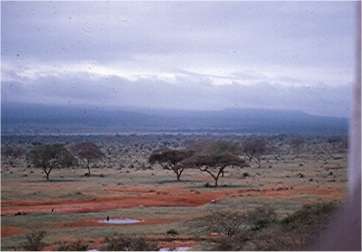 A trip to Africa is a real get-away from the hustle and bustle of contemporary life. Impressive vistas like this are encountered daily. The scenes are mesmerizingly beautiful.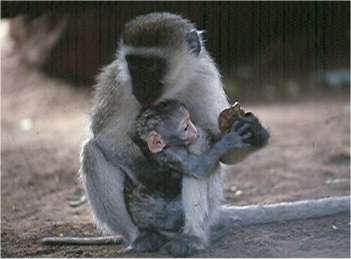 I love monkeys. We saw lots of them during our trip. I think these were at Samburu.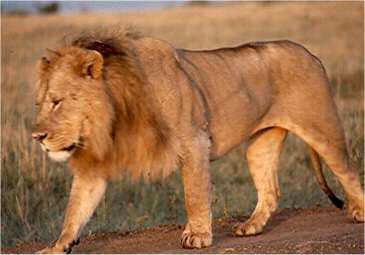 We came across this lion walking along in the middle of the road. We stopped and watched as he sauntered by.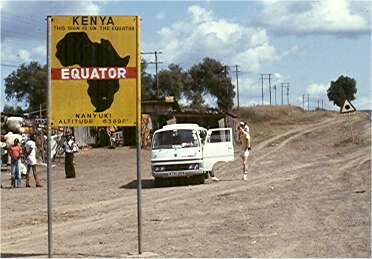 Our group stopped at some souvenir shops at the equator. Bob is standing by "our" vehicle. There are some utility poles along the road here, a rare sight during most of our trip.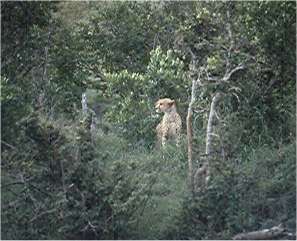 In Kenya our vehicles were not allowed to be on the road after dark. When we learned there was a cheetah sighting, we raced to the spot even though the sun was going down. I got this one picture of the animal. I was amazed when it made a sound. It was more like a bird chirping than a cat growling.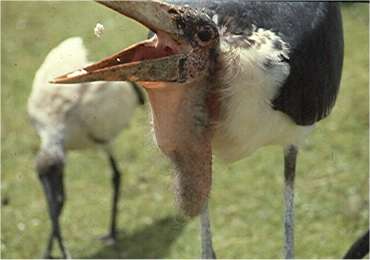 The Mount Kenya Safari Club is impressive: swimming pool, huge flower beds, spectacular sights, and this Marabou Stork. I followed the bird around, then got this picture just as the critter found a bread crumb and was about to swallow it.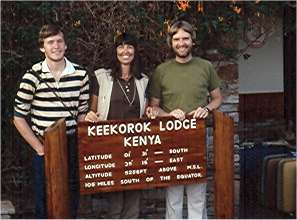 Here's a picture of Bob, Lynne Leakey, and me at the Keekorok Lodge at the end of our trip.



---

The way back home.