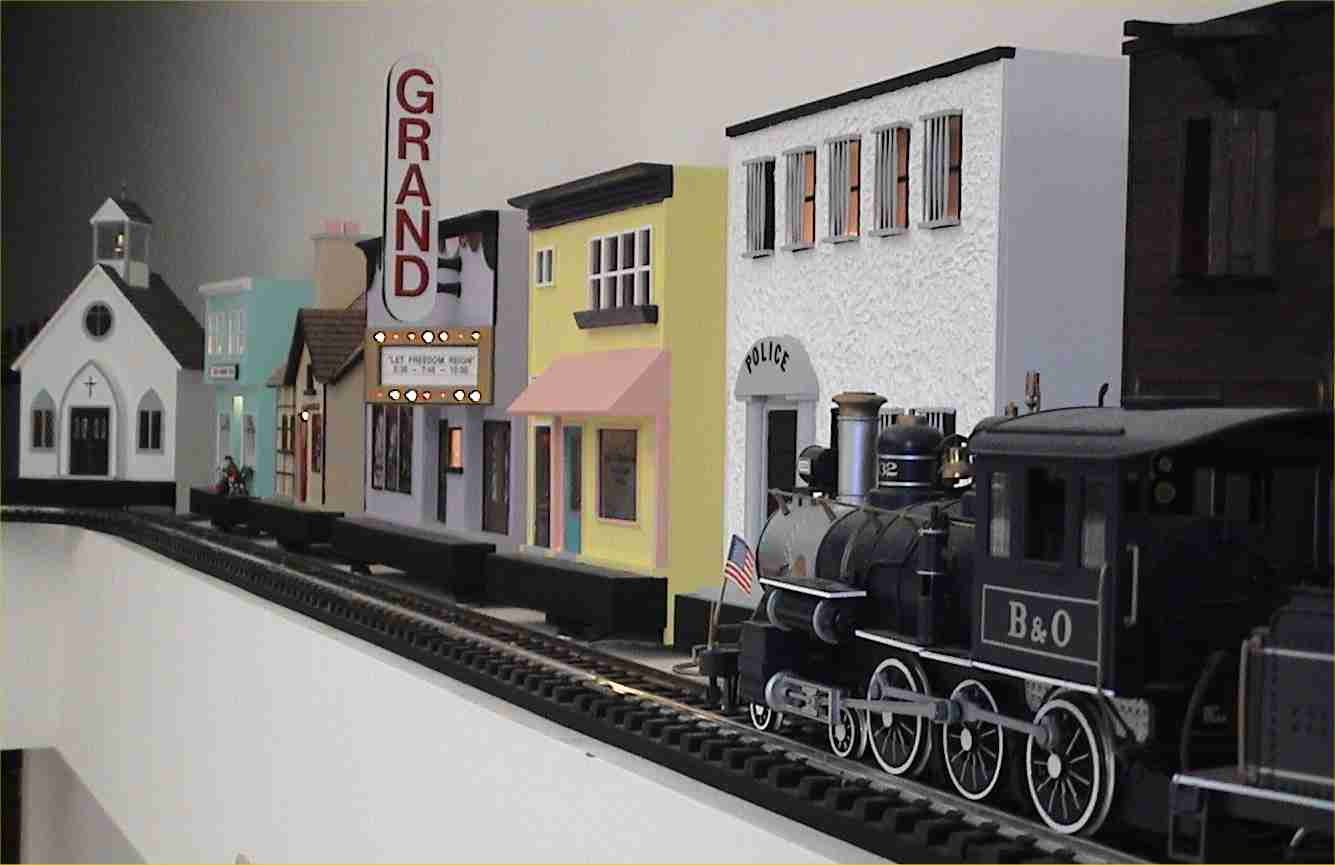 An apparently deeply repressed passion for model trains emerged about a year ago after remaining dormant for some fifty years or so, ever since my childhood toy train set was lost or destroyed. So for Christmas last year, yielding to this passion, I placed an order with a mail-order catalog company for a turn-of-the-century, G-scale (1 inch = 22.5 inches), Royal Blue Line B&O passenger train, complete with ten-wheel engine, tender, baggage car, mail car, passenger cars (two), and extra track. Oh, boy!

I don't have a spare room to press into service to accommodate a train layout, and most of the rooms in my home have doorways, open spaces, or wall placements that simply prohibit a proper track installation. But the kitchen, well, that's a different matter entirely.

The tops of the upper cabinets along three walls in my kitchen appeared to be an ideal setting for a layout. The adjacent breakfast nook with its large windows could accept track, I figured, if it was hung on the wall and "bridged" across the window openings. And the one wall separating the kitchen from the breakfast nook just screamed out at me to be tunneled through. So with those basics determined, work began immediately on the details and actual installation.

Tunneling excavations quickly revealed that the wall was there for good reason; it was filled with wiring (110 volt cables, telephone wires, security system wires, heat-sensor wires), pipes, and supporting 2x4s. Fortunately, I was able to push enough wires out of the way to make an eight-by-eight-inch opening, just enough to accommodate the walls of the tunnel I constructed. On the kitchen side of the wall I wanted a big mountain, which I constructed with a wooden frame and spray-foam insulation. With several coats of acrylic paint, the mountain now looks quite realistic . . . if I do say so myself.

Each curved track section provides a 30-degree turn, so I had to place a special order for some half sections to achieve 45-degree turns at one of the windows. I ordered the track at a local hobby shop, but following weeks of delay was told these sections were not in stock and would have to be back ordered . . . from Germany! After more weeks of waiting I bought a regular 30-degree section and carefully sawed it in half, producing two 15-degree pieces and a solution to that little problem. Months later when I stopped by the hobby shop to tell the storekeeper to cancel my order, he said it had just arrived that morning!

Wall brackets and supports for the track were easy to design and construct: one-foot sections of 1-inch-by-1/8-inch steel bars with oak blocks attached by screws. "Bridging" from one side of each window to the other was more of a challenge, however. Working at my kitchen table, which I used as a sit stand desk, I rejected a dozen different design ideas, then finally assumed a single piece of oak (1x2x35 inches for one window, 1x2x51 for the other) would be strong enough and rigid enough to support the tracks, the train, and a half-inch plywood base for the tracks. Happily, my assumption proved correct.

As every good model trainman knows, however, tracks and train alone do not a complete layout make! Pondering that reality at my office desk, I knew I needed buildings. I needed a little village. And the space along the top of an eleven-foot-long section of cabinets over the range and microwave oven was the ideal setting. Thus, the village of Trainsville was founded next to the track on this twelve-inch-wide strip of "land."

Trainsville consists of seven buildings: a church with stained glass windows, steeple and bell, and a lightening rod on top; a stucco-siding police station with bars on all but one of the windows; a hardware store with living accommodations upstairs; a garage built of timbers, sporting shutters on the second-floor windows; a building which contains both an ice cream parlor and candle shop; a restaurant with a chimney and a shingled roof; and finally, a movie theater complete with lighted marquee and chase lights that blink in five-bulb progressions!

Perhaps it goes without saying that each building has inside lights, which can be turned on and off individually from the master control panel. Not satisfied with the meager transformer supplied with the train, I got a replacement: a heavy-duty model with lighted ammeter and voltmeter built in. The control panel has switches for the building lights, switches for a train whistle and master power, indicators for various conditions, and of course the transformer itself.

But that's not the whole story. As I was nearing completion of Trainsville construction, I discovered that one section of track adjacent to the buildings was, well, boring. In a moment of inspiration it occurred to me that a forest was needed there and work on its fabrication began post haste. The forest now consists of 64 clumps of trees planted along both sides of about 70 inches of track. But calling them trees is really being too kind. They're just clusters of reeds; brown, dead old reeds, up to fifteen inches high, maybe a dozen and a half in a bunch. The effect, though not dazzling, is nonetheless quite satisfactory, particularly since I priced G-scale evergreen trees at the hobby shop. At $20 a pop, a forest of evergreens would rival the price of my refrigerator!

Now let me give you a quick guided tour of the layout, starting just north of the Village of Trainsville. Riding in the train as you speed along Cliff-Hanger Straightaway, you see the big "Welcome to Trainsville" sign up ahead (at night it's lighted). The train makes a quick zig left and zag right, and as the whistle toots loudly, you're riding along the Trainsville Village Run, passing Jim's Garage, the police station, Bob & Madeline's Ice Cream Parlor, Tim & Cheryl's Candles, the Grand movie theater, the Pig Out Inn, Dad's Hardware Store, and finally, at the curve, St. John's Church.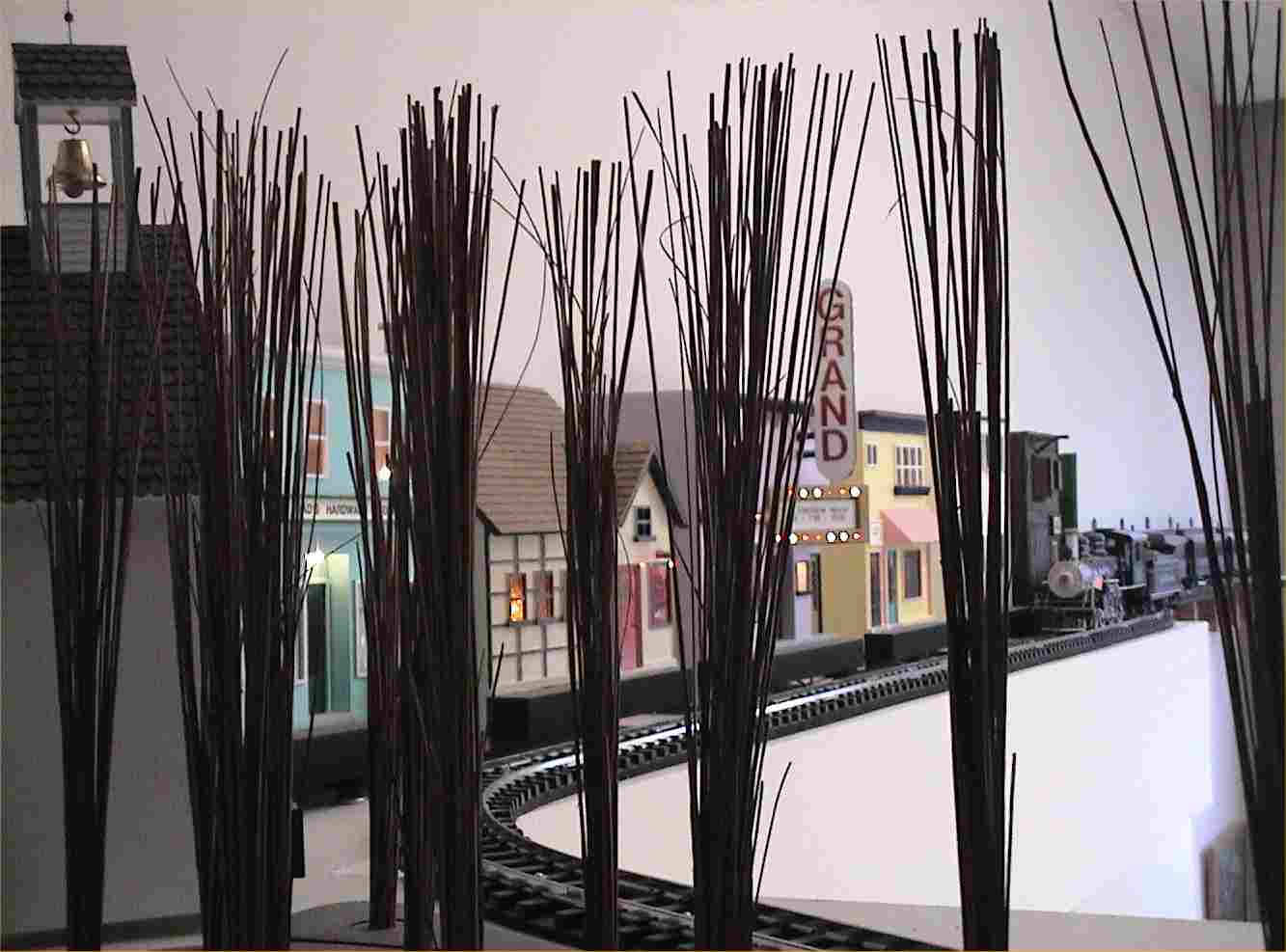 As the train swings into the curve to the left, you enter the forest (those 64 clusters or clumps of reeds), appropriately named Forest Clump. But some of the Trainsville residents call it Clusters' Last Stand. Then with another curve to the left you exit the forest and enter a landscape strewn with gigantic rocks. The track weaves its way through these mammoth rocks in a section called the Boulder Dash, which leads up a slight incline straight towards Molehill Mountain and its tunnel. (I made a molehill out of a mountain.) As you emerge from the tunnel you can see an illuminated train signal just to the right of the track. Of course that's the light at the end of the tunnel. At that point the track is built on a trestle and the train makes a lazy-Z turn, then heads to a 45-degree curve and the first of two long bridges. Representing a continuous span of over 65 feet (in G-scale that's 35 inches), this bridge is called C-Span (naturally the "C" stands for "continuous"). Then after another 45-degree curve you encounter C-Span II, which represents more than 95 feet between its oak supports. Watching C-Span and C-Span II may be a little boring, but it sure beats hearing someone else's interpretation of the experience.

A full 90-degree curve then leads you back to the Cliff-Hanger Straightaway, completing the loop of track and returning you to your starting point. About 48 feet in total, the track corresponds to over two tenths of a mile of "actual size" track. Want to go around again? I'd be delighted to repeat the tour. Maybe this time I'll turn on the lights in the passenger cars and activate the engine smoke. All aboard!

So there you have it. Not only is there a train in my kitchen, there's an entire village, forest, and mountain in there, too! I suppose I'm one of very few model train enthusiasts in the world who looks up to view his train layout, and can do so while washing dishes at the kitchen sink!